I still can't believe I'm about to share with you my first blog post of 2019. Last year went by way too fast – feel as though I barely blinked and eye and now here we are! This is exactly why I chose today's topic of time management. I know we talked a lot about this last year, in many different forms, but I can't stress enough how important this is when running a business. Especially if your business is in the market of helping others run theirs.
"Take care of the minutes and the hours will take care of themselves."

– Philip Stanhope, 4th Earl of Chestefield
As a re-cap, last year we talked about different ways to become more productive by acquiring different/new organizational habits, ways of "time blocking" which then rolled over into a huge breakdown of project management and different tools I shared with you from my own virtual toolbox to assist with just that, ways of creating more time for yourself, as well as other resources to help you run your business with ease.
I hate to admit this out loud -- but there are a lot of "time wasters" in our daily (working and professional) lives which can sometimes have a negative impact on what we're trying to accomplish. That's why it's so important to understand time management – which in reality can also be viewed in partnership with project management.
We don't want you getting burnt out, so the key word here is PLANNING. You want to work more efficiently, no work more. You want that life of freedom (whether it be time-wise or financially). You want your big dreams to become reality. So, in order for that to all happen you'll want to plan things out according to your daily tasks, projects and goals.
If you work too hard you may lose sight of your bigger picture. And we most certainly don't want that as that's what we've been working so hard to build up to and work towards in order to gain more lifestyle freedom. Research actually suggests that as we burn out, we have a greater tendency to get "lost in the weeds" -- since that's the last thing you want, it's time to slow down and keep reading to get the low-down on time management to improve your daily schedule and make 2019 your best entrepreneurial year ever!
"If you don't make the time to work on creating the life you want, you're eventually going to be forced to spend a lot of time dealing with a life you don't want."

– Kevin Ngo, Co-founder of SuperMedium
I thought it would be fun to start the blog portion of the new year a bit differently …. Not all reading (beside the important URLs above of course). Would make absolutely no sense to talk about time management then send you off on a reading frenzy, LOL! So, time to get down with some fun, yet very informative infographics. Why? Because time not only matters as an entrepreneur – it plays a significant role in our daily lives … 👇

Time management can be extremely helpful in boosting your productivity levels as it helps you stay on top of things – on top of the tasks/projects at-hand … 👇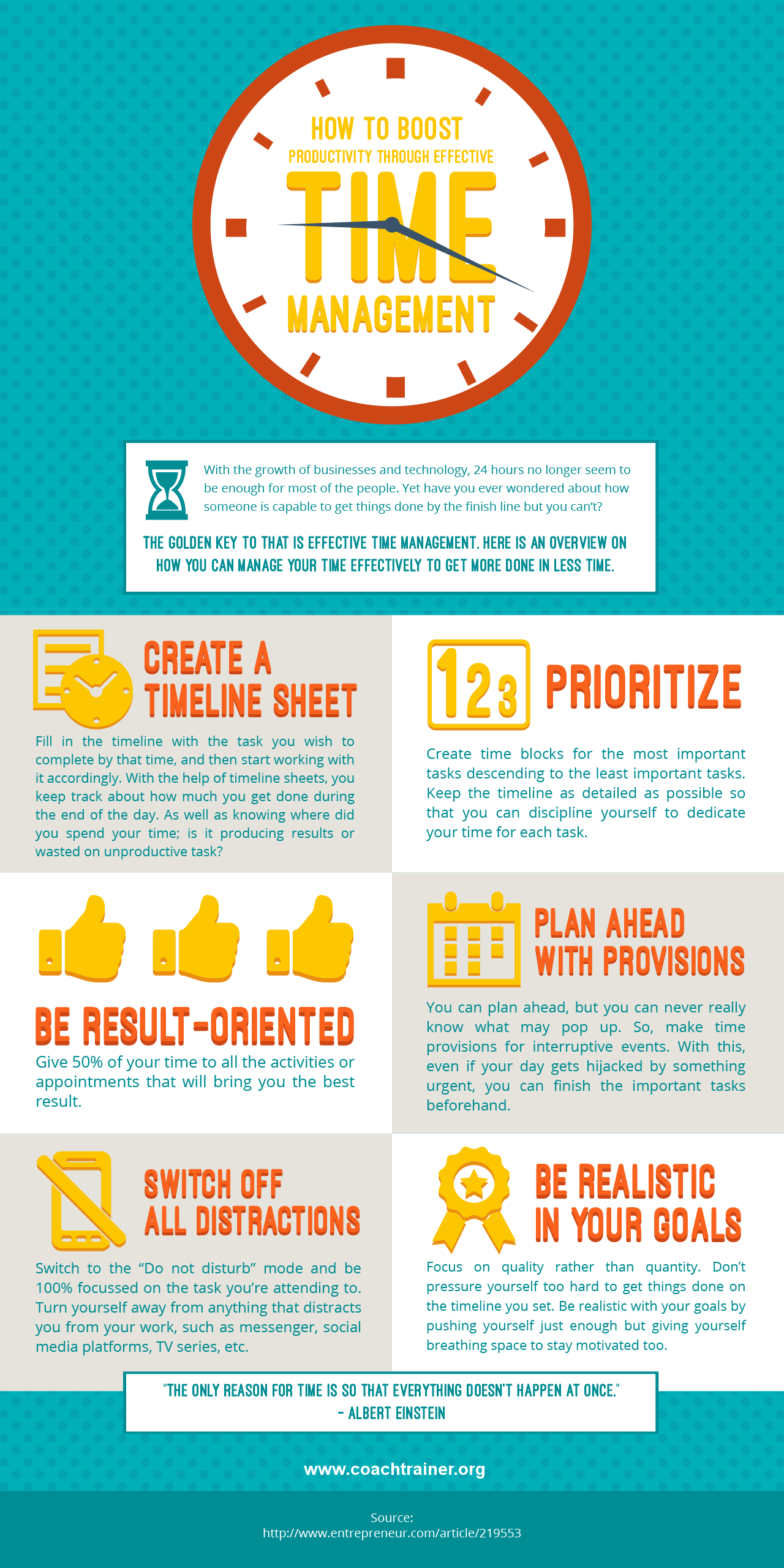 Do you constantly feel as though you're searching for the "one and only" time management technique to cure all your time woes? It's a difficult process to work through, in the very beginning, and may be difficult to find just "the one". So, instead of just one, how's 12 sound? They are al truly great, especially when mixed together … 👇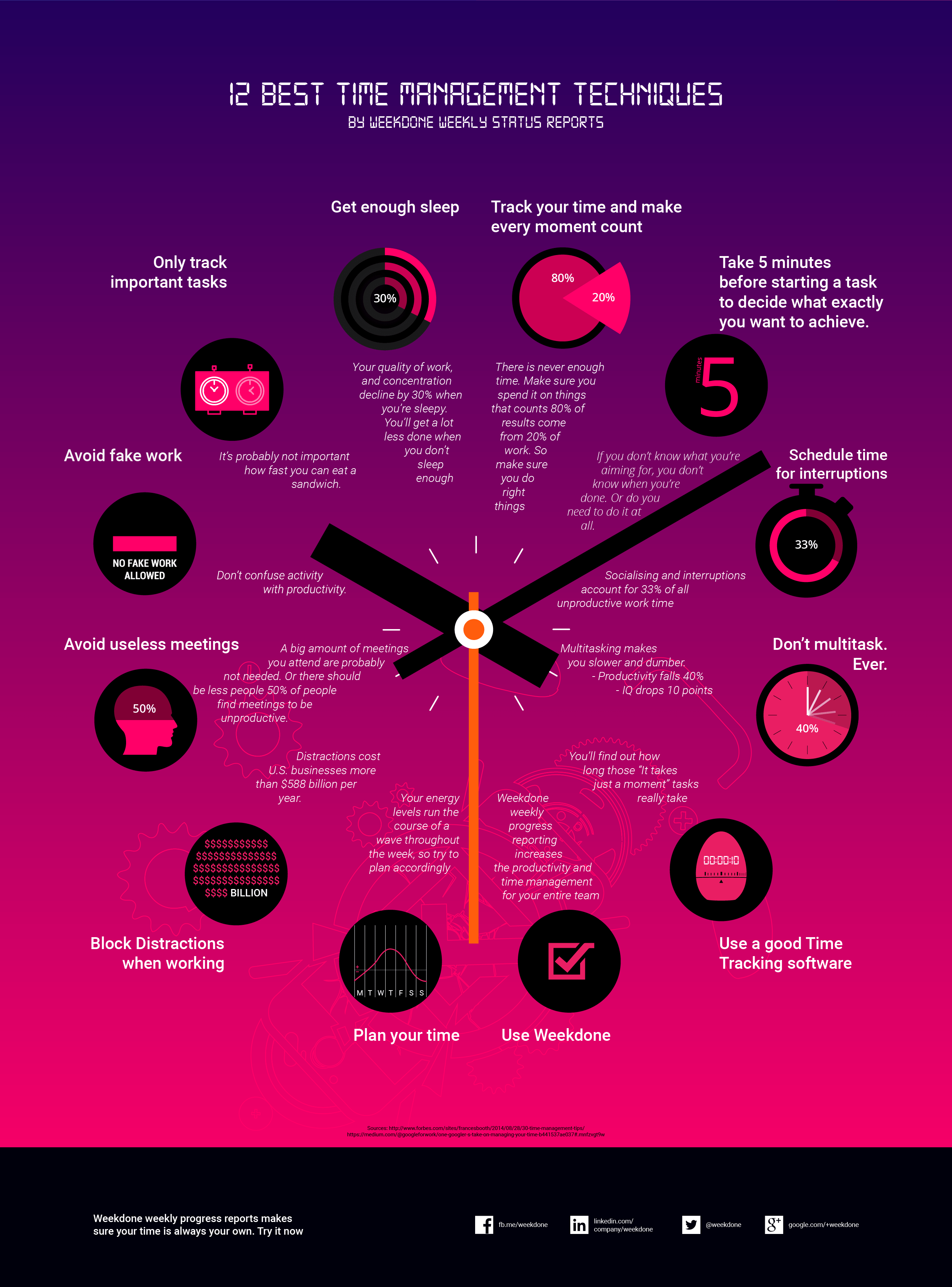 We all procrastinate at one point or another in our lives. We all get distracted by things easily within our reach (or view – technology is literally everywhere). But it's time to start thinking about YOUR TIME as something that is palpable. If you don't you will unfortunately keep making the very same mistakes and end up wasting more and more time on tasks and projects that don't bring any positive changes into your life as well as benefit your business (and those of your clients).
"It is not enough to be busy … The question is: what are we busy about?"

– Henry D. Thoreau, Poet and Philosopher
Do remember though … it's not possible to get everything done, especially on your own. And sometimes you may feel that there just aren't enough hours in the day for you to accomplish everything you set out for the day (maybe even week). But if you're calm and work smarter – not harder – and follow some of the tips I mentioned in the above links and shared infographics … you might find that there are enough hours. And your bigger picture will become a reality a lot sooner than you thought.
However, if you're feeling as though no matter what you do, you're not getting ahead …. Time management isn't making any sense or working to your advantage … You can't finish off the items on your to-do list every single day ….
There's another way to nudge things along …!
I would be happy to offer you a 30-minute consultation for free, so we can figure out how Virtually Untangled can help get you on track and not break the bank! If this is what you're needing to start the year off right, then feel free to drop me a line so we can book a time to chat 🙂
----------
If you found today's blog post to be exactly the type of inspiration and know-how you were looking for, I would be very grateful if you would help it spread by sharing it on social media or emailing it to a friend. You never know whose life you might change.
Also, have any topics you'd like to hear more about on my blog? Feel free to drop me a line, connect with me on LinkedIn or post your comment on Virtually Untangled's Facebook page. Thank you!