Interview with Victoria Haines – Luxury Laced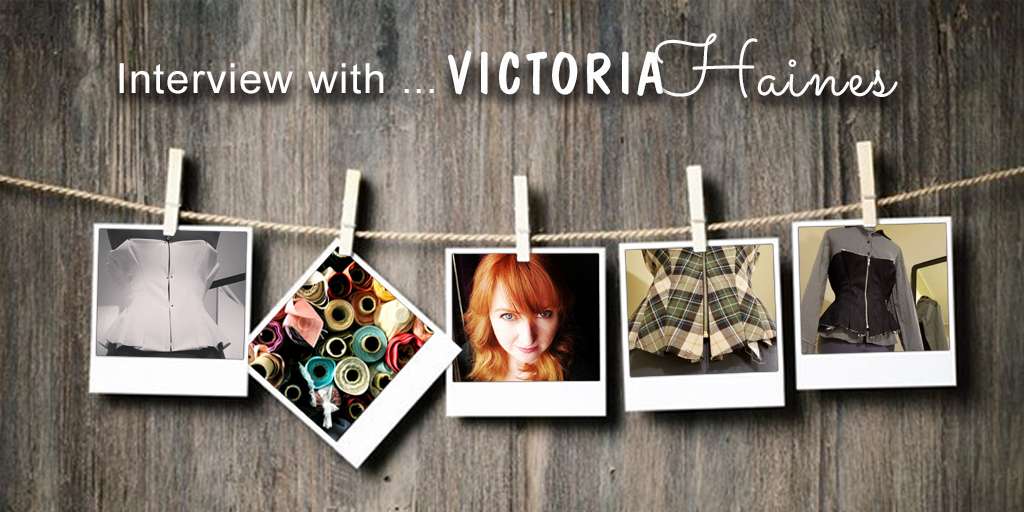 Company: Luxury Laced     |     Instagram Page
So, today's sexy interview is with Victoria Haines. She is a custom corset designer and has a story in which I think you will truly unravel for. For those of you who are unfamiliar, Luxury Laced, it is a local start-up here in Winnipeg, MB where Victoria creates pin-up style corset with fabulous luxury materials in which you can wear day and night, but not as an undergarment.
Curious to find out more?
Keep reading to find out what Victoria had to say …
What inspired the passion within you to do what you do?
Really the answer to that question is three-fold, being I was a dancer growing up so wearing unique pieces and having clothing made specifically for me and my style was something that I was accustomed to for over 15 years. I had my mom who made almost all my costumes. She spent a lot of time sewing and teaching me about quality and what kinds of things to look for. And then working in the business world, there is an expectation on what clothes you can and cannot wear. When I go shopping, I have searched for hours and hours trying to find clothes that suit both my body and my personality. I could go to the mall, spend 3-hours there and not find a single thing. So, what ends up happening is I pick the least offensive option and by "offensive ", I mean it doesn't match who I am on the inside, but it close. The third part is that I really want to spend more time with my family and working at my own business and having the ability to set my own hours. I am essentially missing their lives and they are only little for so long. I can't keep missing their lives … it's just too important.
How did you continue to ignite that fire within you?
Every bad day at work, LOL! No, I'm kidding! It's just what I want to do. I have a great job that I am doing now but at the end of the day I'm not making money for myself. I am making money for other people. And yes, I get a salary, I get a cut but it's just not for me. I need to make my own way. And really, that's the definition of freedom for me. If you have to go every day and do what you do and you only mediocre like it you are in danger. You are just working in order to pay your bills then go home and spend that one hour with the people that you said you were going to spend your life with. That's not freedom. So, starting my own business and igniting that passion in myself, that's really freeing myself from my current situation.
Did you start with a business plan? If so, tell me a bit about your vision and mission.
I do have all of that. I am working on the business plan and have most of it completed but without really diving into the creative side of things it's impossible for me to finish it right now. Yes, you can have a mission, vision or statement but without a product you really can't envision your financials. I'm working on my prototypes to figure out what all my costs will be as well as to be able to understand what my pricing strategy will be. I am in that creative mode right now. I've got the overarching vision of the company which is to, well, not eliminate spanks but eliminate clothing that makes women feel bad. So, in the case of compression undergarments they are currently made of materials that make you sweat and I don't know if you have ever had to put those on or not, but it doesn't feel the greatest. Visually, it's like riding the wave … I don't feel good putting them on and feel even worse taking them off. We as women are doing this because the clothing overall doesn't work for our bodies.
So, what's the solution? We should be creating clothing that suits every single body type. For example, if you are a petite or plus sized figure, you pay more money for your clothing. That's wrong! Retailers are taking advantage of a situation. Its not fair and just not right. So, in my business plan, no matter your body size you are paying the same price. When I look at the women who are going to be wearing my corsets, I am looking for women who are professionals between the ages of 30 to 55. Those women are my inspiration. Whether you are an 18- or 25- or 44-inch waist, my corsets will have something there for you. It's all about shape. There will be something that suits every woman. We're not putting people in boxes … just corsets. LOL!
What are some of the biggest challenges you feel your company is faced with?
It's simple … I am not underwear. LOL! Typically, when people think of corsets they think of things they put under their clothing. But I'm not. It is a fashion corset line. It's meant to be worn on the outside, as clothing. I think that is going to be the toughest thing for me to overcome. I don't want consumer to automatically think of underwear when they think of my product.
Walk me through a typical workday – from when you eat breakfast in the morning to what you think about on your commute home THEN tell me about what you think about when you're not in "the office"?
I think about corsets every minute of every day. I think they are wonderful. I spend a lot of time at the fabric store trying to figure out what it is I want to do next. My corsets are made from all-natural fibers. Natural cotton breathes better and when you have something that close to your body you want something that breathes so you are not sitting in sweat. I try to think about supply chain. I am in discussion with a company in England to have a regular shipment of the strength layer of the corset. If you are dealing with China there are a lot of late nights and if you are dealing with England there are a lot of early mornings. So, I have put some of the manufacturers on the backburner until I can finish dealing with my supply chain. I don't work as well during the day but I work extremely well in the late evenings … pretty much the middle of the night. When I get my inspirations and I start hunting and need to talk to someone, they are there. I also want to make sure that the manufacturers I will be working with are respectable of their workers.
I don't know if I am just being a naïve first-time business owner but, whether or not your product sells … good for you. But if you are working away and other people are being harmed in the process then you are responsible for that. We are Canadians. We came here to make better lives for ourselves. Not to hurt other people. At the base of most people, we just want to do right by others.
What were some of the biggest challenges you've had to overcome to get to where you are today?
Ugh, my patience! I am very impatient. I want everything and I want it right now and I have to remember that while being a small business we don't command that kind of attention. If you are on a creative roll you want nothing to stand in your way. I'm come into something like that recently with a 6-week hold up on something a simple as a business credit card. It was infuriating. I had people counting on me. I want to be able to ride my creative wave until the end and stupid little things like that make me get right into my head. Then that little nugget of crazy ruins everything some days. Another thing that is hard for me is that I am a collaborator and I am by myself. I have some people working with me but it's a fine line between bouncing ideas off of others and having my original intent being completely gone. Sometimes working alone makes me feel as thought I'm going mental. LOL!
What are three words you would use to explain your business? Your personality?
My personality is crazy, out-there and loving. I'm okay with being crazy as long as I'm loving. LOL! Now for my business, I'd day fun, fashion and inclusive.
Can you tell me about your ideal target market?
All professional women who are 30 to 55. The best thing about corsets is it helps you sit up straight and gives you a sense of power. When I have my corset on I feel like I can take on the world! If you can for a minute imagine Wonder Woman and her breast plate, that's how I feel when I am in mine. That's how I want other women to feel. You feel like nobody can stop you. So, if I can make a handful of women feel that way … then it's just made my day. I'm fricken Shera … get out of my way! LOL!
Looking forward into the next few years, what projects or goals are you most excited about?
Well, I want to get into the different boutiques. I would like to get a mainstream account, like one you may find in a mall. Those would fall under my five-year goals. I would love to see myself in a Melanie Lyne. That's high-end fashion for my exact demographic. After that, I would love to have another sister-brand. More than just one label. The second label would be women's suiting. I want women to have a custom-tailored experience without having to look like your grandma. There is nothing currently out there for that younger, professional demographic.
If another entrepreneur asked for your advice and you only had a few minutes to give them your best tip, what would it be?
I'm going to steal this one from a YouTuber … "Do you want to be rich or do you want to be famous?" because most of the time you can't be both. Not in business. Especially in business.
Pick one thing in your life you may go back and do differently. What would it be and why? (doesn't have to be business related)
Ooooh … I would say maybe going back to school?! But then if I did, I would have gone in a completely different direction. So, I am not sure. I feel a lot of regret about not having gone to university. So, I guess my answer would be nothing …! I am happy with who I am.
What is it about your business that keeps you inspired?
Oh, the people. Definitely. Thinking about that poor women can't find anything to wear. Our clothes are SO PERSONAL to us. I want to help them.
If you found today's blog post to be exactly the type of inspiration and know-how you were looking for, we would be very grateful if you would help this post spread
by sharing the LOVE
with it socially, emailing it to a friend or dropping us a comment with your thoughts. You never know whose life you might change.